Wikipedia's section on rigid shapes does not appear to actually define what a rigid shape is. Rather it defines 'same shape' and 'rigid transformations' without giving any definitions of what is necessary and sufficient for a shape to be considered rigid.
For instance, I've seen the following image: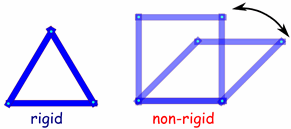 I understand intuitively why the triangle is rigid and quadrilateral is non-rigid. It is also my understanding that inserting a single diagonal connection into the quadrilateral would make the shape rigid? However, given the following image (labeling the shapes $S_1$, $S_2$ and $S_3$ in sequence left to right):
If $S_1$ had a single diagonal connection AB, it would be possible to flip ADB over axis q to obtain a shape similar to $S_2$ with the addition of connection AB (my explanation may not be the greatest). This shape is clearly not the same as $S_1$, so how can we say $S_1$ with a single diagonal connection CD is rigid? I feel I am unclear on what the definition of rigidity actually is.