I want to order 10-15 tonnes of top soil.
It'll be delivered by lorry and "tipped" onto the ground. This will make roughly pyramid shape, or perhaps a truncated square pyramid. a cone shape, or a flat topped cone (conical frustrum).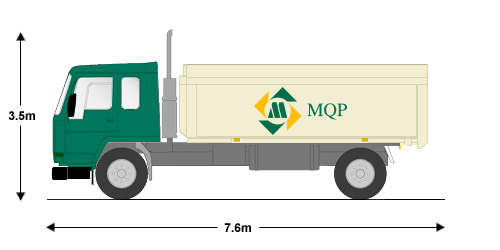 Soil repose values: https://structx.com/Soil_Properties_005.html
Topsoil = 35 to 45 repose depending on wetness. (It's not going to be "dry" so 40 feels a good average.)
Standard density for topsoil is around 100 lb/ft3 (1600 kg/m3). ref This other site gives a value of 1250 kg/m3 ref2 but perhaps thats because its "loose" and not defined as 'topsoil'.
The soil should not go straight on the ground, it needs to go on a plastic sheet to cover the ground.
Given this, is it possible the estimate the meters squared area of the base of the shape; to work out how much tarpaulin / plastic sheet is needed?
I don't mind a margin of error up to 1 meter in either direction, if that helps you estimate. :-)