Okay so I'm doing a little bit of vector calculus at university (mainly with neural networks and the k-means clustering for cluster analysis in a 3 dimensional field or hyperplane)
And from what I understand
(Forgive me I'm not sure how to format the equation with mathJax)
Is all about weights * inputs
sumof(sizeof(w) * sizeof(x)) or sumof(|w| * |x|)

Okay so the question is based on this definition:
Maths
a quantity possessing both magnitude and direction, represented by an arrow the direction of which indicates the direction of the quantity and the length of which is proportional to the magnitude. Compare scalar (def. 4).
Computers
Computers. an array of data ordered such that individual items can be located with a single index or subscript.
So I know what a 2D array (matrix) in nmpy (python) is... (Is a vector represented differently? in the form of an array?)
x = [[1,2,3],[1,2,3]]

And I understand a vector is.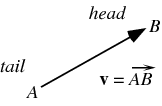 Whats the differences between an array that can be a vector? because a array can be many things like a matrices (from my perspective they all seem, like similar data structures)
Thanks